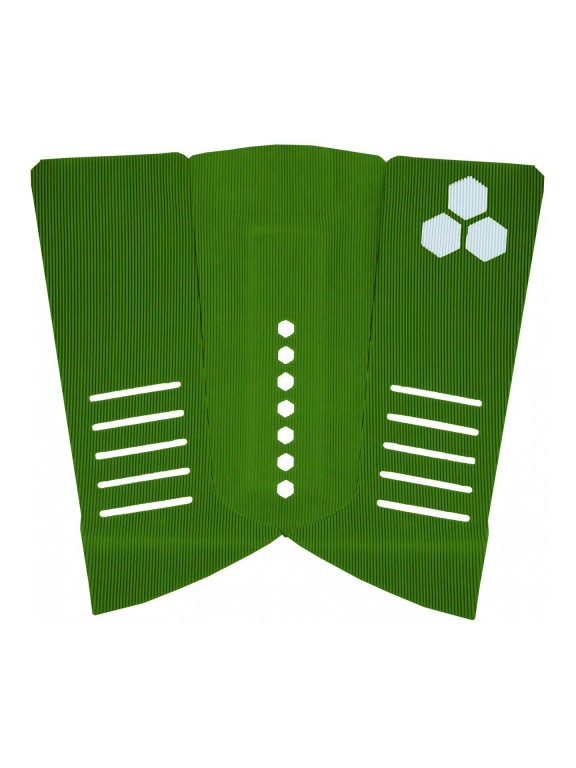 Channel Islands Fish Arch Army 3 Piece Tail Pad
The Channel Islands Fish Arch surfboard tail pad. Super lightweight, ultra low profile and stickier than a sticky thing holding a sticky stick! We're lovin' these newly designed tail pads; they feel super-grippy and comfortable under your back foot and give better traction than anything else I've tried. At only 2.5mm thick these pads use Channel Islands Vertical Groove Technology, are really low profile and very lightweight. The vertical groove design allows fine adjustment of the back foot up and down the board but locks it in place from side to side. Made from Channel Islands unique EVA foam with a 5mm arch and a very slight 4.5mm tail kick just to keep you aware of your back foot position. Surfboard tail pads and deck grips are designed to improve traction on your surfboard whether surfing bare foot or with wetsuit boots on. EVA tail pads also offer some protection from pressure dings and save on wax. The CI Fish Arch 3 piece tail pad has been designed to work on any fish tail surfboard model but will work equally well on any wide swallow tail board.
View more
We inform you that the images presented on the website are merely indicative and may not correspond in detail to the final product.

Free shipping to Portugal Continental from 60€ purchase

In case of questions related to the exchange or warranty of your product, click here!
Channel Islands Fish Arch Army 3 Piece Tail Pad
CI
Surf Hardware